P5 Mrs Tweedy
Welcome to our class page!
We are looking forward to term 2 in Primary 5.
Connected Learning
We have had such a busy first term, learning about life in the Stone Age, the Bronze Age and the life and times of The Celts in Ireland and Britain.
The Catholic Faith

We had First Holy Communion within the first few weeks of term and we have enjoyed the Season of Advent; preparing for Christmas. We worked hard to give a huge donation to the South Belfast Food Bank. We recorded our class Advent Service and sent it out to our families- it was beautiful.
Planning Ahead
This term we hope to learn more about materials and how things fly (those natural examples found in the Animal Kingdom and those brought about through human engineering and design).
Things To Keep In Mind:
P.E. is every Tuesday and Wednesday, weather permitting.
School Meals: meals need to be booked in advance by parents using the School Money App (by Eduspot), even if you are in receipt of free school meals. (Only recipients of free school meals can book a school meal until further notice)
ONLINE LEARNING
Please makes sure you know how to access your accounts for:
SHOWBIE: homework and communication with class teacher
COLLINS EBOOKS: reading books
OXFORD OWL: reading books
ACTIVE LEARN MATHS: Numeracy games
ACCELERATED READER: reading test and rewards system
LEXIA: if you use Lexia in school you can access it from home
STARFALL: if you use Starfall in class you can access it from home
EPIC: reading books
IF YOU NEED SUPPORT IN ACCESSING ANY OF THESE PLEASE CONTACT MR MCVEIGH AS SOON AS POSSIBLE.
SUPPORT FOR YOUR FAMILY
IF YOU NEED INTERNET VOUCHERS OR TECHNOLOGY PLEASE CONTACT THE SCHOOL OFFICE AND LEAVE A MESSAGE FOR MR MCVEIGH DETAILING WHAT YOU NEED.
IF AT ANY TIME YOU NEED HELP WITH CLOTHING, FOOD SUPPLIES OR IF YOU HAVE WORRIES OR CONCERNS (PHYSICAL OR MENTAL HEALTH INCLUDED) YOU CAN TALK TO US, WE CAN TRY TO HELP OR REFER YOU TO A RELEVANT SUPPORT AGENCY.
PLEASE DO NOT BE AFRAID TO ASK FOR HELP, WE REALLY ARE ALL IN THIS TOGETHER.
PANDEMIC PRECAUTIONS COVID-19
Please let the school office know if your child needs to isolate for any period of time due to exposure or possible exposure to the virus.
Please let the office know immediately if someone in your family bubble tests positive for COVID-19.
Please DO NOT send your child(ren) to school if they exhibit any symptoms of the virus.
Please continue to encourage regular hand washing.
Children may wear a face covering to school if they wish.
Adults should contact the teachers via telephone, please do not approach them, maintain a 2m distance between yourself and others whilst on school grounds and wear a face covering.
Staff and pupils only access the school building until further notice.
Please do not gather with other adults within the school grounds or just outside the school gates. Please maintain social distancing in order to keep everyone safe.
ROAD SAFETY
Please do not drive on to Sunnyside Crescent, keep the street clear for children and families walking in to the school.
THE SCHOOL DAY: START AND FINISH TIMES
The school days starts between 8.45am and 9.15am. Anyone arriving later than 9.15am will be marked late.
P5 finish at 2.50pm Mon-Thurs and 2pm on Fri.
Thanks for being on time when picking your children up.
Class Photograph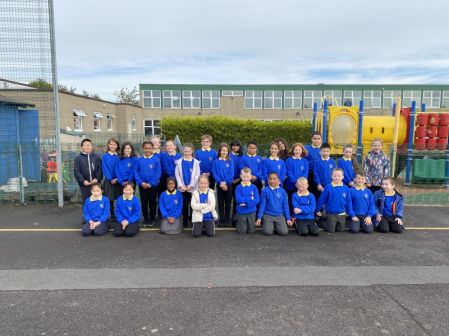 &nsbp;
Holy Rosary Primary School, Sunnyside Crescent Belfast Down N. Ireland BT7 3DB | T: 028 90491817 | E: info@holyrosary.belfast.ni.sch.uk

WEBSITE BY: SCHOOLWEBDESIGN.NET | Login