B.B.C. Micro: bit Workshops.
2nd Jun 2016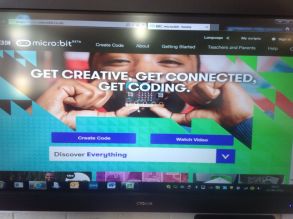 Holy Rosary P.S. was delighted to host Liberty I.T. software engineers today in hosting S.T.E.M. workshops for P.6 and P.7 pupils.
We had the opportunity to write code using the B.B.C. Microbit and we learned how to create a 2 player interactive game!
We all worked hard and had a lot of fun using the micro bits and software.
Thank you so much to Liberty I.T. we really enjoyed the workshop.
Have a look at our pictures and video to see what we did!
Holy Rosary Primary School, Sunnyside Crescent Belfast Down N. Ireland BT7 3DB | T: 028 90491817 | E: info@holyrosary.belfast.ni.sch.uk

WEBSITE BY: SCHOOLWEBDESIGN.NET | Login